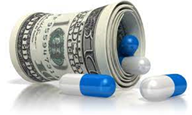 Focus: Brand Name and Specialty Drugs


We access certain brand name and specialty drugs at a lower cost. The drugs are sourced from one of our international pharmacy providers and/or a domestic partner that specializes in rare diseases. These drugs are from the same manufacturer that is currently being used by the employee. Our process is straight forward:
We obtain historical RX claims data and submit the information to our partners
Pricing transparency is provided by our RX Cost Containment Savings Analysis which compares current cost with our cost. This allows us to guarantee savings!
Our unique Shared Savings Modeler allows an employer to model the amount of savings to be shared with employees.
A concierge contacts each employee to discuss their specific savings and the process required to access those savings.
All fees are contingent upon savings, so employers pay nothing unless an employee engages and the savings far exceed all expenses.
Facility Cost Containment
Inpatient & Outpatient Facility Costs


Our partner negotiates and pays cash for certain inpatient and outpatient facility charges. These claims are paid directly to a willing provider through a single case direct contract. All stakeholders see our methodology, and employees are guided through the process every step of the way:
We obtain inpatient and outpatient facility claims data from the employer/advisor.
An employer is provided with a "Facility Cost Containment Savings Analysis" that identifies the inpatient and outpatient facility. payments paid, compared to the average cost reimbursed to that facility.
Pricing Transparency is provided by The Rand Study

Nationwide

Evaluation of Health Care Prices Paid by Private Health Plans.
The Facility Cost Containment Shared Savings Modeler is used to determine employer approved sharing formula.
The employee provides direction on facility choice(s). We negotiate with the appropriate facilities.
If facility and minimum savings requirements are met, the employee has the final decision on engagement.




Our Risk Management program is designed to identify, manage, and measure specific health risks that can drive claims costs. The specific risks we consider are:
Chronic Conditions
Preventative Protocols
Medication Adherence
Medical and RX claims are the primary sources of data we use to provide this service however other data elements such as biometric screenings can easily be included to expand our deliverables. Like any claim avoidance product, efficacy is determined by improving the metrics which define the risks we are trying to improve. There is no need for fuzzy ROI calculations as employers are provided access to a data analytics tool. They can see for themselves how the program is working!